Flashback to fall 2021. I receive a call from MasterChef casting. They tell me they are putting season 12 together as an all star season, titled Back to Win. They are calling to see if I'd be interested and tell me that they are considering me as a candidate to come back and battle for a white apron once again. A flood of emotions run through one. First adrenaline and excitement. A second chance at a once in a lifetime opportunity. Becoming runner up of season 7 completely changed my life. Not only do I have a new career, but I changed as a person as well. I learned that I'm stronger than I ever knew, and to believe in myself. I showed my own children and the hundreds of students that came through my classroom, and people across the world that anything is possible. We teachers stand in front of them every day and tell them to dream BIG and reach for the stars. I had the opportunity to put those words into action, and now they believe that if they work hard, they really can do anything. I learned I had talents far beyond what I believe.
Those fuzzy emotions began to fade and next entered fear, anxiety, stress, and guilt. Becoming second in a competition this large sounds like an amazing feat, but I was also reminded constantly that I, in fact, did not win (if you're not first your last…I know, I'm working on that mindset). I thought back 2016, to my boys and how hard it was on them for me to leave for such a long period of time, especially for my oldest, Mikey. He was 10 at the time, and leaving for months turned his world upside down. I thought about the little moments I missed in my then 2 year old, Colt's, life. And I looked down at my 9 month old daughter, Vada's, face in my arms and couldn't fathom how I could leave her here without me, never having spent one night away from me. I told casting that it sounded like an amazing opportunity, and that I would love to, but I had a very young baby at home, a whole business I was running, three children, a family, a home. They told me that they would try to work something around my infant daughter. Even though I knew it was probably a waste of time, I filled out the forms, did the paperwork, and took videos they requested and completed the application process.
When they called me back, they told me they were bringing me to LA to film! I was going to be in the running for MasterChef again! But…there was nothing they could do about my situation with my daughter. With a heavy heart, I told them I would not be coming. My daughter needed me. Her father worked a swing shift job, switching from days to nights throughout the week. There was no way I could find someone to RAISE my daughter on nights while he was at work, and honestly, I didn't want anyone else to. I didn't want to miss out on her infancy. I withdrew from the competition (much to their amazement) and tried to push it out of my mind.
For a week or so, I tried to go on about my life, daydreaming what could have been. Much to my surprise, I get a second call from casting. They tell me they want me to come to LA, that they have gotten it approved for me to bring my daughter, and someone to watch her while I'm on set! I'm floored. The first time I went, I spoke to my children only a handful of times, this time, I'd be able to bring my BABY! I was ecstatic….for a moment. Then my sons flashed through my mind. I had to know how they felt, especially Mikey (who was now almost 16). I went straight to him and told him about the opportunity. I needed to see the look on his face. He immediately told me, "Mom, you have to go!" I said, "But what about Vada, and you and Colt." He told me we could figure it out later, that I needed to call them back and tell them yes. Even after the struggle he went through 6 years earlier, there was no hesitation in his voice when he told me that I NEEDED to do this. He knew how much it meant to me. But who would I get to agree to come to LA and watch my baby in a hotel for WEEKS.
Michael, my best friend of 20 years, has an AMAZING girlfriend, Leigh, who was a preschool instructor at the time. She took a leave from work to jump on a plane (her FIRST time in a plane) and be Vada's caregiver during my journey. I couldn't have asked for anyone better to come with me. She cared for Vada as her own during my LONG days and nights on set. Vada was NOT an easy baby. She never let the stress of being in a new place, with a child that was not her own, get to her. Not only did she have to deal with Vada, but she was also there to comfort me at the end of each stressful day. Let's just say she has seen me at my worst. However, I received nothing but love and support from her. Now that I had Vada figured out, I needed a schedule for the boys as well. With the help of MANY people (Vada's father, the boy's father, my best friend, my grandmother, my cousin, and my mother), they collectively filled the role of ME for the kids (and my business!) while I was gone. I couldn't have asked for better support from my family and friends.

I tell you this backstory to help you get a look inside my head and into my situation. I'm spending my days on set, fighting for my life and career, daily trying to convince myself that I deserve to be here. The other contestants are spending their nights in their hotel rooms studying, relaxing, decompressing, or whatever else they needed to do to be in the right mindset. This isn't to say that they didn't have it rough, we all had our hardships being away from home. But, my nights were a little different. I had made calendars, so many calendars, telling each person who needed to do what while I was gone. My cousin/sister/friend, Kelsey, lived at my house on nights while Devin was at work. My grandmother kept the kids when they were sick, or needed rides to appointments and my mother drove the boys to their father's on the weekends. I spent my nights in LA….on the phone with the boys and my family back home. I could tell Colt (age 8) was fighting back tears, asking when I'd be home. And Mikey, oh my Mikey, he tried his best to convince me that he was fine, Colt was fine, everything was fine, while I was gone. See, he didn't want me to stress. He wanted me to be on my A-game, he wanted me to believe that there was no issue with me being gone. Mikey has been my best friend for 16 years. I knew him better than that, and no matter how hard he tried to disguise it, I could hear the sadness in his voice that my absence had brought.
Vada, my daughter, was an infant and still nursing. Yes, that's right, NURSING. So the remainder of my night was spent caring for a baby, waking every few hours to feed her and get her back to sleep. Then, on set, pumping during lunch and any other break I could squeeze in. Yep, I was still breastfeeding during this season, which if you or anyone close to you has ever nursed a baby, you know that's a job in and of itself. Imagine arriving to a Coast Guard base and instead of resting and eating lunch during your break, you're instead being shuffled to an office with some privacy and electricity to pump for your daughter. I…was…exhausted. Every second, of every day. I'm not telling you this for you to feel sorry for me, I'm telling you this to understand my situation. Season 12 of MasterChef took place during a complicated time of my life. The mom guilt I experienced every day on set was almost unbearable. I missed my son, Mikey, being nominated as homecoming prince. I did my best to support him by ordering him a new bowtie to match his outfit for his big day (I had it delivered to him). I missed taking Colt trick or treating (I've NEVER missed a Halloween!). Vada's father and brothers missed a small chunk of her infancy. I know that was hard for them. Vada understood how FaceTime worked before she was one. We spent Vada's first Halloween in a hotel room. (Side note…Shayne bought her the most adorable deer Halloween costume after his elimination before he left. Several other cast members bought candy and goldfish for Vada. She wore her costume and trick or treated the hotel halls as my fellow cast mates put treats in her bag. Leigh (my friend and Vada's babysitter) and I did the best we could to keep her days as "normal" as possible. Leigh filled Vada's days with trips to the playground and mall, and took her almost daily to the hotel's pool to swim. She even got her a little portable high chair for the hotel room, and steamed veggies daily for her to have healthy meals. It was hard. But, I signed up for this, and so many people made so many sacrifices for me to be here…the pressure to do well was intense.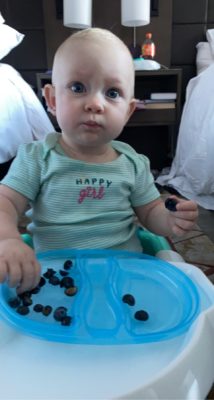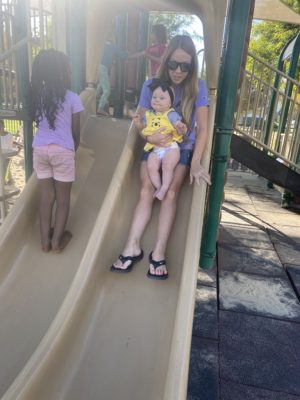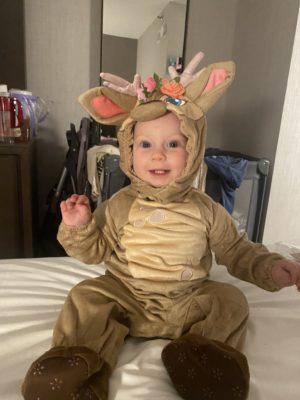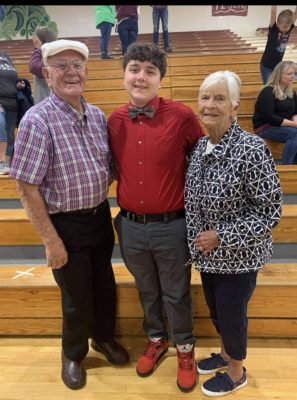 Now…back to top 10. We started with 40 contestants. Our numbers have decreased by 75%. One person (Derrick) has immunity. Which means that the rest of us have a 1 in 9 chance of going home today. As we enter the MasterChef kitchen, we see tons of junk food in the front of the kitchen…we are cooking with junk food. Now, usually in the MasterChef kitchen, we are given GOURMET ingredients to work with. The best of the best! Today, we are literally going to be cooking with preservative filled, food coloring packed, nutritionless snack food.
My first thought is to crust a protein with some type of chip or cracker. But, when Gordon does exactly that in his demo, I feel that there is no way that I can do that now…it will look as though I'm mimicking his dish. My boys LOVE Hot Cheetos. They are made of corn! I decide to turn them into an arepa. I make these at home all the time. I'm going to do a pan seared skirt steak and make a Cola pan sauce. Then top the arepa with some avocado and a fruit cereal crema. Alongside the arepa will be a lemon lime soda infused mango slaw. Sounds like a dish I would eat!
Believe it or not, everything is going well at my station. The cheese puffs have added nicely to my arepa dough (which I seasoned with the cheese puffs, a ton of salt, and other seasonings). The judges come by and seem a little baffled by my dish (which they show on the episode). What they don't show is Gordon telling me that my steak is cooked perfectly. Or the judges tasting my cola sauce and telling me it's delicious. Everything they taste and try…off camera, I get good feedback on.
With minutes to go, I face my first set back. I've somehow let time get in my way, and am now plating with seconds to go. My plates end up looking like a child finished them…so honestly, the only reason I feel I may be in the bottom, is that my plate is pretty sloppy. It is not designed in the way I had envisioned it. I look around and see…..lots of chip crusted protein. Almost every single contestant has crusted a protein in chips…just like Gordon Ramsay had done. Don't get me wrong, it's a great method, but I'm assuming the judges want something different than what we just had demoed for us.
Christian gets called up (with a chip crusted fish) and they love his "gummy bear sauce." It honestly sounds a little disgusting, but I'm assuming it must have tasted great hearing the judges feedback! Shanika gets called up, with another chip crusted fish, and begins to get emotional when discussing her food. MasterChef has that effect on people. Food makes us emotional. The show makes us emotional. However, she has verbally made fun of me, on and off camera, several times, for crying while we've been filming. I've also heard her get onto other contestants as well for crying or getting emotional. So it is interesting for me to watch her cry in front of the judges. Bowen is called up as well. Although he has a chip crusted protein, his pork dish sounds delicious with the cherry cola glaze.
Now for the bottom. Willie gets called up first. Poor Willie, I just love him. The first thing I notice is that he's one of the only people I've seen without a chip crusted protein as the star of his dish. He made a pot pie (I love pot pie) and they tear it apart. It's so hard hearing the judges and their negative criticism, no matter who they are talking to. Then I hear my name called. Not super shocked, because my dish looks a mess. However, I'm confident in my flavors….until I get to judging. None of the positive things said at my station are said during judging. I'm told the color of my food is bizarre, and I'm genuinely confused. When Gordon did his demo and announced the challenge, he told us we need to be able to jump on the latest food trends. Hot Cheetos are ALL THE RAGE in the culinary world. People are covering everything in Hot Cheetos…and the color is the same as my arepa. When Gordon tells me the dough isn't seasoned, I'm once again confused. I tasted the dough, before and after I cooked it. I put tons of seasoning in it. They look at me like I have 14 eyes when discussing my fruity cereal crema. Chefs all over the world are infusing dairy with fruity cereal. It's possible…and not that bizarre. In fact, earlier that year, I competed in a culinary show on another network and was given a "child's fridge" to cook with. I made a fruity cereal lime zest sour cream for a taco and won the challenge. But, when they tell me that they can not identify even ONE of the gas station snacks in my dish…I know that no matter what else they say about my food, or what the person who comes after me in the bottom presents, that they have already decided that it is time for me to go home. They can say they hate my food, but there's no way they don't taste cola in my sauce, or hot cheese puffs in my visibly orange arepas. The gas station flavors are definitely there. It's just my time to go home.
Honestly, I truly believe my mental state is what sent me home, not just my food. So many people online, people who have never even met me in person, are saying, "What's wrong with Brandi?" "Is Brandi ok?" "Brandi just doesn't have the same spark." They were right. Brandi wasn't doing too great (mentally), she wasn't herself, and, in that moment, did not have the same spark. She didn't have the energy, the stamina, mindspace, for this world that completely turns your brain inside out. She didn't have the space for the drama, the stress, the impossible standards she was being held to. She was just not OK, and the judges, production, everyone could tell. I couldn't give them what they wanted this time around.
When Michael is called up, his "lava" cakes aren't lava cakes. They won't come out of the ramekins. Joe says that they taste like "chocolate scrambled eggs', but his "garnishes taste great." Michael was such a SWEET guy. I have nothing but nice things to say about the way he treated me during filming. He's also a two-time cookbook author with amazing chef skills to back it up. When he looked at me and said, "I'm going home guys," I knew he genuinely believed that, but I knew he was wrong. They had already made it clear for me. I was toast.
Being eliminated sucked. Watching this episode sucked (I couldn't force myself to watch it for 5 days after it aired). And to tell you the truth, writing this blog sucked. But…I committed to it in hopes that speaking my truth would help me cope with the emotions, and give you guys some insight, that you just can't get from watching the show.
The first time I participated in MasterChef, it was hard losing and I had a lot of emotions to deal with, but so much positive came out of that journey. This time was a lot rougher on me, I don't think I was mentally prepared to be there this time. However…I've always been a glas- half-full kinda gal, and I'm trying to get back there now. Am I happy with the way things turned out? No, not in the least. That was a different Brandi you saw this time around. But, I'm working on getting back to me. I don't regret going back to the MasterChef kitchen, I still learned a whole lot about myself. Now, I'm hitting the floor with the ground running! So, hopefully, this isn't the end, and won't be the last you hear from me. And as always, whatever comes next…ain't gonna be easy! Love you guys!